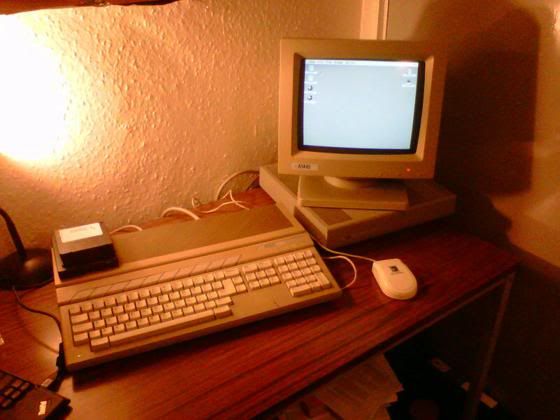 Finally got a monitor for my system I have been able to unpack everything and try it out
There is a 1040 STe, Megafile 60 hard drive, SM125 monitor and Logic 3 SpeedMouse, all purchased separately on Ebay, all for sensible prices - £25 for the STe (inc. free shipping), £18 for the Megafile (plus £10 ship), 99p for the mouse (plus £4.50 shipping!?), and £17 for the SM125 (£2 plus £15 shipped), so not bad. The TOS is 1.62 and comes with the stock 1mb RAM.
So far I've just set up folders for my stuff and installed the usual basics like STzip, LHarc, Everest and Xcontrol. NVDI is an ongoing story(!). I've also installed TeraDesk as the 1.62 desktop is a bit restricting. I've kept the 2 partition 10mb/50mb layout the Megafile came with as it is exactly the same layout I had intended to use anyway.
Nothing exciting was on the drive - just the ICD driver and Fcopy III - the latter of which I remember from my early teens on my 520STfm.
A very grimy system that's seen a lot of work, as you can see! Later on I intend to give everything a good clean, then retrobrite the STe and SM125. The Megafile is just grimy rather than discoloured.
The SM125 is a sweet monitor. It's pin sharp and has excellent contrast. It's actually the best CRT I've come across. The only thing that come close with a Triumph Adler flat CRT XGA monitor I had with the very weird IBM PS2/E I used when studying for my SPM. The Megafile 60 is useful as for a good price I got mass storage that runs directly into ACSI, and is very neat, sitting under the monitor
That said, it does sound like one of the old 1960s jet engines, and is noticably slower than the newer SCSI 3.5" drives you can fit in the TT. It uses an archaic RLL drive(!)
So, my immediate plans for the system are:
1. Take the RAM up to 4mb
2. Set it up my old Epson Stylus with it.
3. Clean up the whole system and retrobrite the STe and SM125
4. Muffle the Megafile!
4a - Replace the fan in the with a newer slimline model, fitted with a voltage changer to lower the RPM. This should reduce the noise of the exhaust air.
4b - Fit soft rubber feet to the bottom of the unit to absorb the drive vibration, or get a rubber mat to slip under it.
4c - Fit acoustic foam inside the case to absorb some of the motor whine from the drive itself.
PS - The black drive on top of the STe is just the USB floppy drive for my ThinkPad... I don't
really
have an external USB disk drive running on TOS