I had been wondering about the number on EA Atari ST gamedisks for a while so i decided to look it up and here is what i guess it means.
Much is guessing though so don't take it too seriously
First an example... Populous:
(pics from atarimania)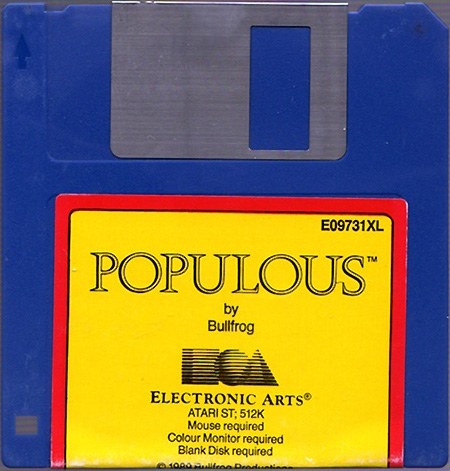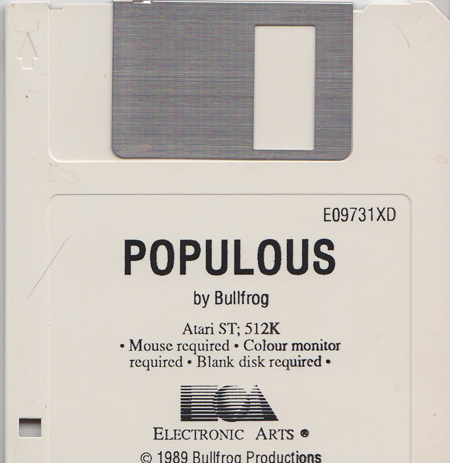 -
E
09731XL -
The "E" would mean this is an European release
- E
097
31XL -
The next three digits would mean this is EA's 97'th European game release.
Another example would be "002" wich then means Skyfox. EA started publishing in Europe in 1986 so early numbers mean the game is from around 1986. Worth mentioning is that Starflight that was released for the ST on 1990 has a very early number (013) but it is because the game number is not ST specific and EA did release Starflight in 1986 in Europe for the IBM compatible.
Another worth to mention game is Populous 2 wich has number "205" but later a 512kb version was released and it got a new number (223) and i belive that is ST specific.
- E097
3
1XL -
The fifth digit is system... and the ST is "3". The Amiga is "1", C-64 is "4" and PC is "5".. thats all systems i figured out
There is an exception though... Populous Promised Lands (E11050XL) wich is a dual ST/Amiga disk and has a "5" as system but is not PC, maybe together with the sixth digit they would become "50"... i have really no idea.
- E0973
1
XL -
The sixth digit i am guessing is media type.. 1 means disk. For C-64 so would "2" mean cassette.
- E09731
X
L -
The seventh digit is language... if it is an "X" then it is in english and there is only an english version released of it.
Let's take Powerdrome as an example, "E07031EL"... it has en "E" and that means the software is in english (would match the gamebox number "E07031EI") and that means there is other languages available of the game, i just did a quick google and found an German version "E07031GL"
- E09731X
L
-
The eight digit i have no idea but maybe something about the packaging? The "L"-type is the one with yellow/red disk labels and plastic case boxes, except Populous wich always comes in the paper box type even if the disk has yellow/red label, maybe this was when EA left the plastic case type and Populous ended up between the change as it comes with the other style also as see nin the pics i posted at the beginning of this post.
If you want the STE compatible version of Populous then go for the "D"-version (E09731XD)
*** an update ***
Not only EA's games has those number but all their software releases.
Let's take Deluxe Paint for ST as an example... "E15731ED[1]".. the [1] just means this is disk 1. DP is their 157'th software release and it exist in more languages than english